Gambling addiction is a problem in New Zealand
Gambling is usually just harmless fun for many people, but it can become a problem for some others. This is often referred to as a "gambling problem" or a gambling addiction. This addiction is what you may call progressive, growing over time and becoming worse. It may have many social and physical different consequences.
Addictions often have a negative impact on the addict and those around them, and this addiction is no. In this article, we will be looking at gambling addictions as a problem, how to not fall into this addiction, and if you have, where you can get help.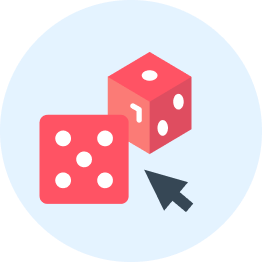 01.

How Not to Fall in Addiction?

No one is above falling into an addiction, and you must take steps to prevent this from happening. Many times, we look down on people with gambling addictions. It is wrong but hypocritical because many people are addicted to pleasure. Below are a few steps to take to avoid falling into this addiction.
Establish reality checks
Several sites allow you to set prompts and reminders to help manage your time while you play. Many times, you may get lost in the thrill of the game and may not realize how much time has passed. By taking advantage of this feature, you can avoid spending too much time gambling.
Set deposit limits.
Another feature that you should take advantage of is setting deposit limits for periods, be it daily or monthly. This helps you keep track of your spending and keeps a reality check on your finances.
Check the history of gambling activity.
Keeping track of your activities is an excellent way to understand what you have been doing and fix any habits you may have started to form over time.
Take Breaks
Set a time to take breaks from gambling. It might range from a day to a month, depending on what works for you.
Self-Exclude
Discipline is key to not getting addicted. By self-excluding from a gambling site or going to a casino for some time, you can avoid falling into an addiction.
Autoplay controls
If you enjoy playing games with the auto-play feature, gambling sites often request that you set your stake and loss limits before you begin. And you always have the option to pause your game at any point.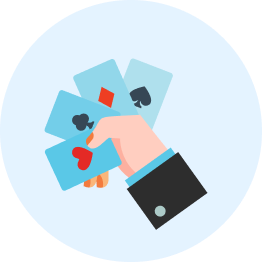 02.

Signs You May Be Gambling Addicted

It is perfectly fine to gamble for fun on occasion. Even someone who enjoys the thrill of the game and bets large sums on a regular basis doesn't mean they have a gambling addiction and need to seek help. It is also true that even low-stakes occasional gamblers could be addicts depending on their attitude and behaviour when they play. Here are a few signs you may be getting addicted to gambling:
In order to experience the appropriate level of thrill from gambling, an individual must bet with increasing quantities of money.
Efforts to minimize or stop playing generate agitation or restlessness.
They've tried and failed to regulate or quit their gaming on numerous occasions.
They are frequently engrossed in gaming.
Gambling is utilized as a coping mechanism for emotional suffering.
They try to make up for their losses by betting more to make their money back.
They deceive loved ones to hide their gambling habits.
Their gambling has risked or led to losing a significant relationship, employment, or educational opportunities.
They have resorted to relying on others to help them meet their financial commitments after losing money via gambling.
On occasion, one or two of these behaviours isn't enough to say you have a gambling issue, but if quite a few apply to you, we need to start asking some questions. If you meet at least four of these criteria, then it is considered mild, while six makes it a moderate disorder, and eight or more indicate a severe disorder.
Questions to ask yourself
A great way to test if gambling for you isn't for fun anymore and maybe turning into addiction is by asking yourself these questions:
Can sit still and gamble for lengthy periods, sometimes skipping work or even things that you should be doing?
Have you ever felt the urge to gradually upped your bets to attain the thrill you desire?
Do you have mood swings, irritation, or anxiety from gambling?
Do you believe gambling helps you deal with other difficulties or concerns around you?
Do you keep your gambling losses hidden from other people?
Have you ever attempted and failed to cut down on the amount of time or money you spend gambling?
Have you borrowed money from any source that you have been unable to pay back because of your gambling, or are you otherwise in debt as a result of gambling?
Do you find yourself breaking promises to family and friends so that you can gamble instead?
Do you feel isolated because of your gambling?
Have you ever considered defrauding someone to fund your gaming habit?
Have you ever returned to the internet to try to recoup your losses on a different day?
Have you ever hidden your gambling from people who are important to you in your life?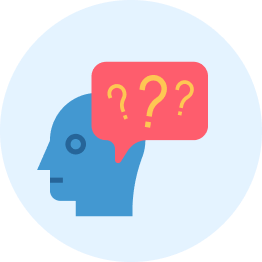 03.

Where Get Help?

Gambling addiction, like all addictions, is manageable with the correct treatment. Compared to something like a food addiction, you don't need gambling to survive. All you need to do is develop a healthy and balanced relationship with money. It's critical that you stop gambling totally, as even a small amount of gambling might lead to a relapse. You can learn to regulate your impulses with the support of a treatment program. Gambling problems are often treated in the same way as other disorders. We will be looking at a few ways to get help and be treated.

Rehab program for inpatients

Although it is not always necessary, some people find that an inpatient program at a treatment centre provides the structure they require to overcome gambling addiction. If you're unable to avoid casinos or other gambling places on your own, this sort of program may be highly beneficial. You will be required to stay at the treatment centre for a specific period of time, which can range from 30 days to a year.

Program of outpatient rehabilitation

People with gambling addictions are more likely to seek outpatient treatment programs. You will take lessons at a facility in this sort of program. You can also participate in group meetings and one-on-one counselling. You'll stay at home and attend school, work, or other daily activities, but you'll follow the said program. Those living in New Zealand can visit the Ministry of Health website to find centres close to them.

Twelve-step programs

Gamblers Anonymous (GA) or other 12-step programs like Bettors Anonymous may also be able to assist you in overcoming your gambling problem. If you can't afford more intense rehabilitation choices, this sort of program may be highly beneficial. It works in the same way as Alcoholics Anonymous does by assisting you in forming a network of support with other recovering gamblers. One or more times each week, you may meet with group members to discuss progress and share your wins.

Cognitive-behavioural treatment (CBT) or psychotherapy

One-on-one treatment may be beneficial in addition to group therapy or support sessions. Gambling addiction might be the result of underlying psychological or avoidance difficulties. To overcome self-destructive tendencies, especially your gambling problem, you'll need to address these underlying concerns. Counselling provides you with a safe environment to express yourself and resolve these issues.

Medication

In some circumstances, you may require medicine to help you control your gambling tendencies. An undiagnosed mental health problem, such as bipolar illness, might be the cause of your gambling problem. To improve impulsive behaviour control in these situations, you should learn to handle and deal with the underlying issue.

Lifestyle changes.

Coping with the financial implications of gambling can be one of the most challenging aspects of the healing process. At first, you might have to delegate financial responsibility to a partner or close friend. You may also have to stay away from locations and events that trigger your gambling urges, such as casinos or sporting events.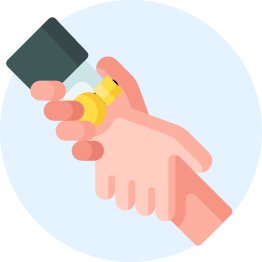 04.

Conclusion

The first step to dealing with a problem is acknowledging that you have one and are ready to solve it. Gambling addiction can be scary and draining. It pushes away your loved ones, saps your finances, and leaves you with guilt and debt. However, it isn't the end of the world and, with the proper steps and making the right decisions, you will come out on top. And even if you are not addicted to gambling, it wouldn't hurt to take some of these steps into consideration to gauge your lifestyle and where you stand at the moment.